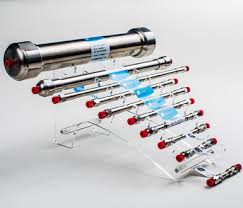 Bonna-Agela Technologies Inc. is a separation technology company that serves chemists and biochemists in the field of drug discovery, food analysis, drug testing, environmental analysis and chemical research. Agela offers a full line of products designed to meet your separation and purification needs from bulk separation media to chromatography columns and SPE cartridges. Through continuing innovation, Agela Technologies Inc. offers customers the best tools and solutions for separation, purification, and analysis of organic and bioorganic compounds.
Through our unique nano-surface modification technology, they have developed Venusil HPLC columns and Cleanert solid phase extraction media having incredibly improved surface properties (e.g., less tailing, higher recovery and larger sample capacity).
Bonna-Agela Technologies Inc. conducts business in North America, Asia and Europe. They sell their products to end users, distributors, and OEM partners. Because of their unique business structure and superior production process, they are able to provide products of the highest quality at very competitive prices. Angela Inc. is also very proud of its full support for customers' applications, and they are willing to customize their products to meet any specific requirement of their customers.
Bonna-Agela Technologies Inc. has an uncompromised quality policy. All their products are guaranteed for customers' satisfaction.